Integrated Transport Solution Connecting Mines to Ports
Located in the Barracuda Zone of the town of Owendo, 21 kilometres from the capital of Libreville, the sprawling Mineral Port of Owendo spreads over 55 hectares of land partly reclaimed, directly linking the main rail line to Franceville at 646 km inland. In partnership with the French investment fund Méridiam, the port is a critical nexus point for minerals trade activity in the region, with integrated transport solutions connecting the nation's mines to port infrastructure.
As an independent operator serving all mining operators, the port is equipped to guarantee the complete transport chain. By offering highly productive integrated logistics services, with a single government counter, the terminal increases the value of the nation's minerals at highly competitive prices. The broad range of available services and transport modes, for both imports and exports, helps mining companies broaden their presence in regional and international markets.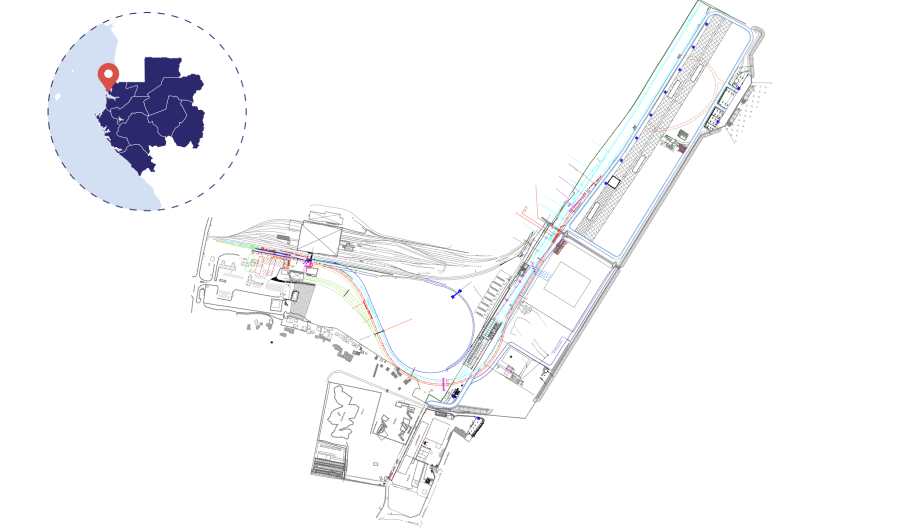 AT A GLANCE
170-metre wharf for transshipment barges
Owendo/Libreville site total of 55 hectares
21 km from the capital Libreville
2 inland rail sidings
20.6-km railway line
FLEET :
6 self-propelled barges at 2,100 DWT each, anchorage at 2.5 NM from wharf, in the river estuary, geared handymax vessel suitable
3 tug/flat barge units for coastal/inland transport
TRAIN WORKSHOPS :
38 locomotives with 1,450 wagons, each with an 80-tons capacity.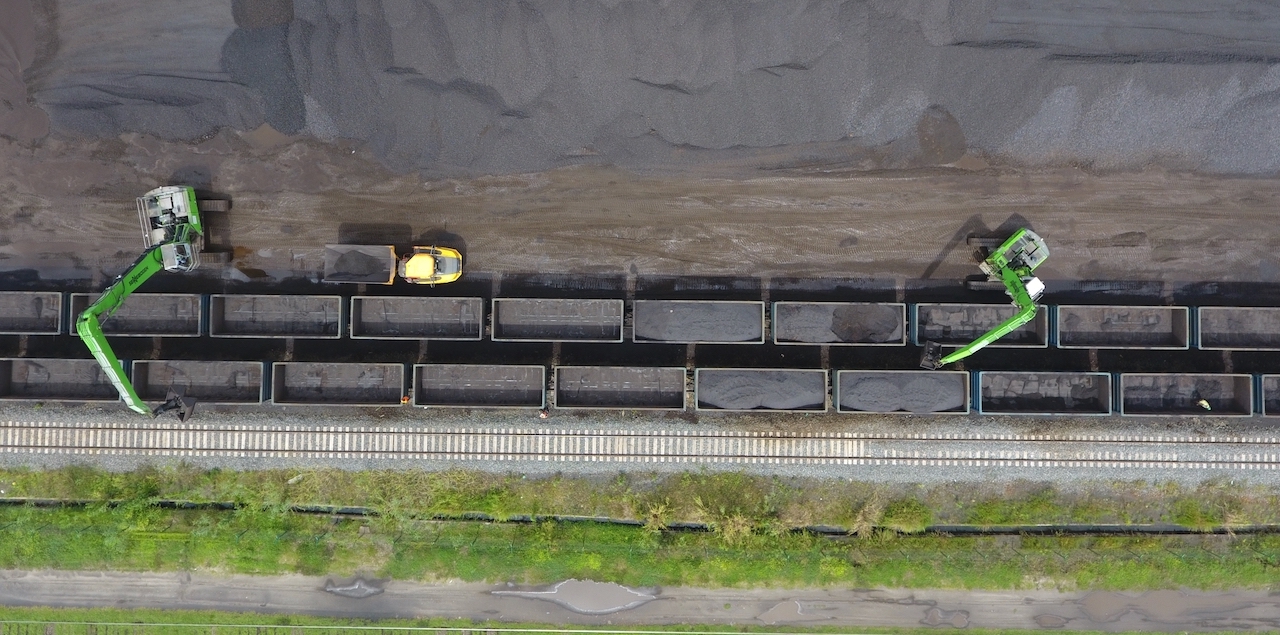 Key Advantages
Complete Transport Services
Port import/export operations
Business port for all types of customers
End-to-end solutions for all expediting services
Record-breaking Productivity
Nonstop logistics service
3-4 day loading of 50,000-ton ship, a level of speed unlike anywhere else in Africa
Connectivity
Comprehensive logistics solution, with a privileged access by sea, road and rail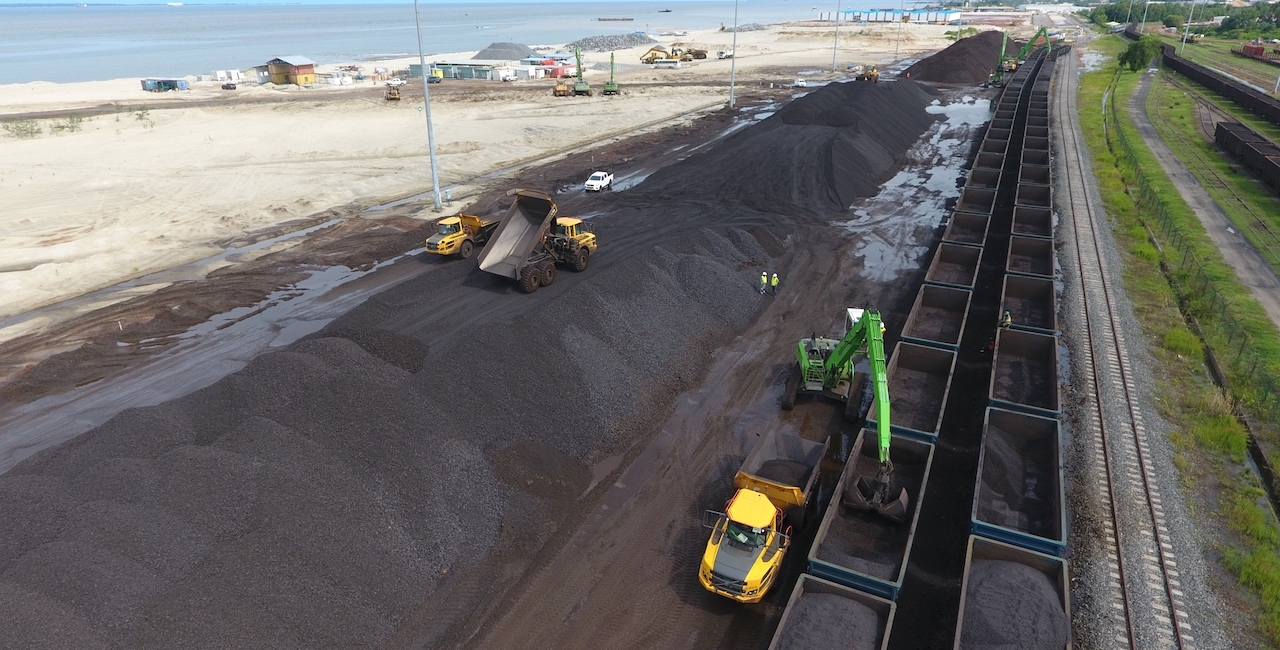 By the Numbers
SHIPMENTS IN 2021
RAIL IN 2021
Daily loading rate
15,250
metric tons per day
A multifunctional hub in a strategic location
Built in only 18 months and inaugurated in 2017, the New Owendo International Port was designed to significantly expand Gabon's import-export capacity and provide shipping and industrial customers with modern infrastructure, interconnected with its sister facility, the Owendo Mineral Port. A public-private partnership between ARISE Ports & Logistics, STOA Infra & Energy and the Government of Gabon, the port is located at the heart of the Gulf of Guinea and serves as a veritable multifunctional hub in a strategic geographic location. The New Owendo International Port has its own logistics fleet with rail and river barge connections, operated by a dedicated team of 250 employees working around the clock and providing a high-level, continuous service.
Located in Owendo, 21 kilometres from the capital of Libreville, the port has a depth of 13 metres and is perfectly adapted to Panamax-type cargo ships with optimal conditions of productivity. The port terminal, which combines cutting-edge technology with an integrated line of logistics services, was designed for the transit of 4 million tons of shipments per year.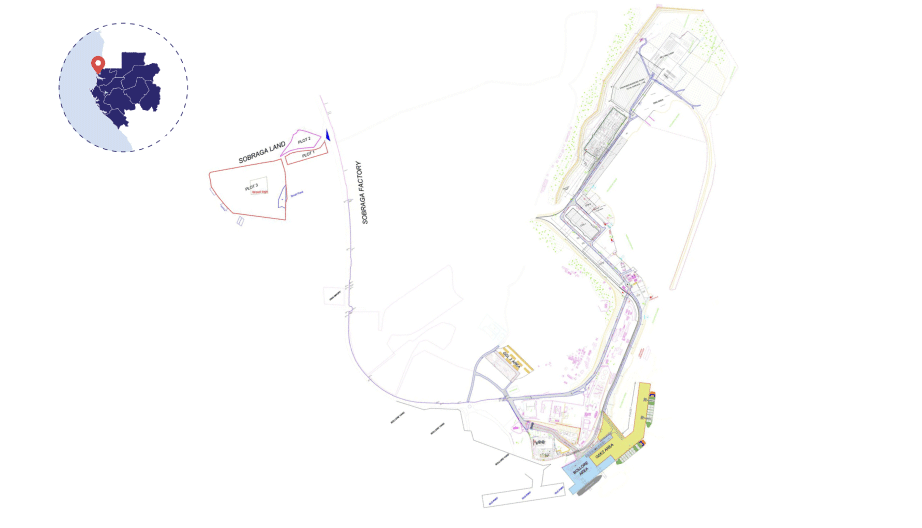 AT A GLANCE
21km from the capital Libreville
500-metre-long and 13-metre deep dock
4 yard gantry cranes
5 palm-oil storage tanks with 10,500-KL capacity 2 grain silos with 10,000 tons of capacity
2 grain silos with 10,000 tons of capacity
2 weigh bridges with 80-tons capacity
1 mobile scanner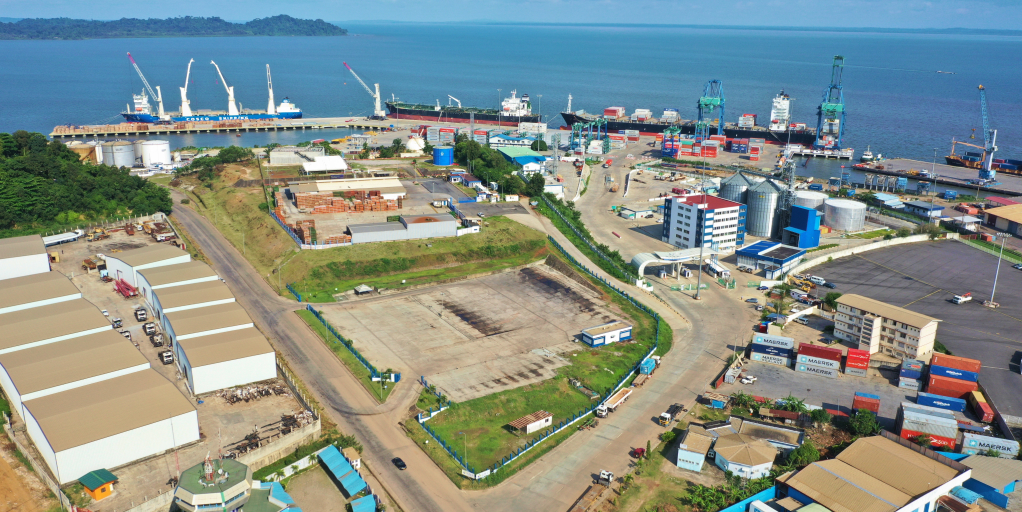 Products handled
Lumber
Cereals
Palm oil
Hydrocarbons
Ro-Ro
Steel
Cocoa
Fertilisers
Fish
Key Advantages
Large-scale infrastructure
A hub equipped to handle a global influx of ships operating in the Gulf of Guinea region
Gabon's largest logistics fleet
Gabon's only deep draft multi-cargo handling port
Connected with road, rail and waterways
Own portside industrial area of 13 hectares
One stop solution
Integrated in-house service: Customs, Loading, Freight, Delivery, Sorting etc
A single intermediary: Arise Ports & Logistics
A one-stop administrative desk
A central customs desk handles our customers' needs 24 hours a day, 7 days a week